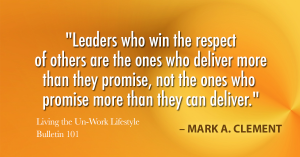 "Leaders who win the respect of others are the ones who deliver more than they promise, not the ones who promise more than they can deliver." 
– MARK A. CLEMENT 
We strive to achieve that every day, all the time. We sometimes fail. How do we do with you? 
Please let us know – maybe we can improve! 
Helmut Flasch
CEO, Flasch International 
www.Un-Work.com 
PS. We currently have the Un-Work program. As you might know we have been the "Don't waste your money advertising – try Un-Advertising" company for 3 decades now. 
But, restrictions, low re-imbursements from insurance companies, middle class disappearing has made practicing a less profitable business than ever. Even our Un-Advertising program has limitations as the margin per patients keep being squeezed more and more – with little end in sight.  
So, it's time for doctors to stop trading time for money (little money) and start to Un-Work! 
Call us – even if you feel it is not for you. You will love it, as you will learn something new and/or will confirm what you already know and perhaps this information will have life changing value to you in the future. 
Give our office a call to set up an interview.
Call (800) 912-0510 or visit our website: 
www.Un-Work.com