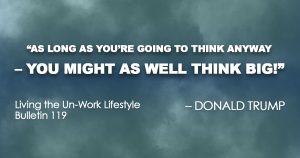 "As long as you're going to think anyway – you might as well think BIG!"
– DONALD TRUMP
The truth is that many people who think about their goals are already looking at the obstacles. And there they think big obstacles.
We all know instantaneously what we want – the additional process of "thinking and figuring it out" is just looking at problems and feeling sorry for oneself because of all those obstacles.
That unfortunately makes it seem 'reasonable' to shrink one's goals. After all, there is so much opposition!
Just look at goals and yes, look at big ones – real big ones!
Well, when I initially wrote this, Donald was NOT the president as this was about 11 or 12 years ago!
It doesn't matter what you might be thinking of him right now, we all must admit that he does NOT think small, that he does NOT think inside of the box and that he is something else.
I am surly not asking to simulate him in any way or agree with him as I personally do that with absolutely NO ONE in this world.
One can always use knowledge or strength in a variety of different ways.
What I am encouraging is that you perhaps should explore avenues of personal and professional satisfaction which you have not looked at or dismissed as not knowing about or even dismissed as too good to be truth!
Whether the president is "too good to be truth" or…
It's actually unimportant for your and my existence.
He as every president before him and after him do NOT shape our existence!
We DO! We are the writers, directors and stars in a movie.
Start reading a few scripts from other people out there – it might lead you to write, direct and act the best script ever for you and your family!
Helmut Flasch
CEO, Flasch International
Un-Work & Un-Advertising
PS. After this crisis caused by the virus, it became clear – the old economy no longer has its old days stability and security. In fact, most practice and business owners are still suffering from the consequences of this downturn.
Check out our new strategy of how building an infrastructure in the new economy helps people not only to pass through the hard times, but also gives them the freedom of time, location and occupation.
Give us a call and find out how to participate in the unbreakable economy.
Call: (800) 912-0510
www.unbreakableeconomy.com